Autodealer / Business Litigation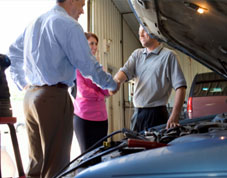 CORPORATE & FRANCHISE AUTODEALER LAW
For 30 years, Nichols Law Group has had a special interest in Automobile Dealer Law. As such, our qualified team of lawyers is uniquely qualified to provide a wide range of legal services typically required by automobile dealers. Our extensive experience provides us with in depth knowledge and close familiarity with the auto dealer industry. The expert attorneys at Nichols Law Group have developed a confirmed strategy for comprehensively managing the legal affairs of our many auto dealer clients.
Consistent with the Nichols firm philosophy, we provide our legal services to auto dealer clients in a modern, efficient manner and at reasonable rates, while maintaining the highest quality of legal work. Our dedicated, knowledgeable attorneys and staff work proactively to minimize legal problems. Our firm's focus on automobile dealer law means that our attorneys are always up to date on the most current, relevant legal developments. Automobile dealers have a wide variety of legal needs, all of which can be successfully addressed by Nichols Law Group.
Auto Dealer issues include:
Complaints involving the DMV
Complaints involving the Department of Justice
Lemon Law Complaints
Fraud and Breach of Contract Issues
Consumer complaints
Consumer Class Actions
Unlawful Trade Practices Act Violations
Contract Disclosure Violations
Advertising Issues
Employee Issues
Sale or purchase of an automobile dealership
Franchise issues
Vehicle repossession
Corporate law, contracts and business transactions.
Nichols Law Group is proud to be legal counsel for the Oregon Auto Dealers Association, the Metro Portland New Car Dealers Association and other local dealer associations. We also represent dealer advertising associations and dealer related financial institutions. We have authored many publications relating to the interests of the dealer industry.  Additionally, Mr. Nichols is also the author of a book entitled, The OADA Auto Dealers – Auto Law – Legal Reference Manual. Nichols Law Group, together with the OADA, delivers seminars throughout Oregon on legal issues of interest to the auto industry.
If your dealership requires representation, or you would like additional information, call (503) 224-3018 for your free and completely confidential initial case review today.