Auto Accidents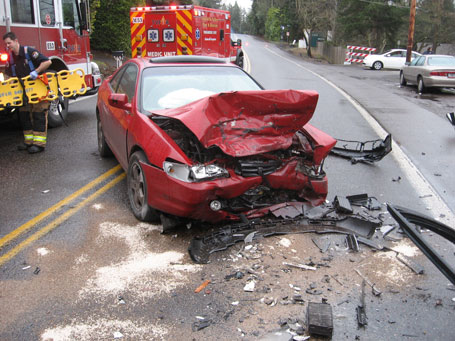 Automobile Accidents
Cars and other vehicles are a necessary part of life. It is impossible to imagine how we would get through even one day without using some type of motor vehicle. Along with the prevalence of vehicles in our society comes the issue of negligent or careless operation of those vehicles. In 2011 alone, over 35,000 people were injured in auto accidents in the state of Oregon. Clearly, our safety is a major concern when we get behind the wheel.
When we least expect it – when driving to work, picking the kids up from school or going to the lake for the weekend – life can change in the blink of an eye. Motor vehicle accidents occur so unexpectedly and are usually far more shocking and traumatic than we might expect. The damages can be overwhelming and include physical injury, emotional injury, property loss, lost time from work, and medical bills.
The attorneys at Nichols Law Group know how to successfully advocate for our injured clients. We are determined to help families recover from the devastating effects of motor vehicle accidents. At Nichols Law Group, you and your story matter and we are here to guide you through the entire litigation process and help you get the compensation you deserve.
Motor Vehicle Accidents Include:
Car Accidents
Truck Accidents
Bus Accidents
Train/Railroad Accidents
Marine/Boating Accidents
Motorcycle Accidents
Hit and Run
Auto/Bicycle Accidents
Auto/Pedestrian Accidents
Drunk Drivers
Distracted Drivers (texting, eating, talking on phone)
Motor vehicle accidents of all types are a daily occurrence. Thankfully, most collisions are minor, but some accidents do result in serious injury or even death. The costs involved can add up very quickly. It is important to seek out a qualified law firm such as Nichols Law Group to lead you through the process of determining whether you have a claim for compensation for your injuries.
If you or a loved one has been injured in a motor vehicle accidence, call (503) 224-3018 for your free initial case review today. We look forward to providing you with superior legal services.